Chapter 3

Separating with Color and Class Lines

This chapter explains how the boundaries of white middle-class privilege have shifted over time, from explicit racial barriers to more sophisticated hurdles, and from the schooling to the housing sector. The Connecticut legislature banned schooling for out-of-state black students during the 1830s, and Hartford leaders voted to officially segregate public schools for a brief period in 1868, and proposed it again in 1917. After civil rights activists overturned these policies, Hartford officials quietly continued to separate many black and white students into the 1970s, through its decisions on locating new schools and redrawing attendance lines. In the housing sector, the color line gained more governmental support in the 1930s and '40s, with federal and local policies that openly prohibited home mortgages and public housing for blacks, and legally protected white-only property deeds. After activists overturned these governmental restrictions, the Connecticut real estate industry continued the color line through discriminatory steering and lending, even after the federal Fair Housing Act of 1968 outlawed these practices. Eventually, as overt racism became harder to defend, Connecticut's white suburbs relied more on exclusionary zoning policies, with "color-blind" rules that required higher-price single-family home construction, effectively blocking lower-wealth families, and by extension, most people of color. As a result, Connecticut's city-suburban barriers trace their legacy to color lines that have faded over time, but remain in force today primarily due to class lines, supported by local and state government.
Federal Lending and Redlining
by Shaun McGann and Jack Dougherty
TODO: update with 3.3a and b
Racial and class discrimination in American housing was not simply caused by the prejudice of individual property owners. During the 1930s Depression, when federal agencies entered into the home mortgage market to bolster the economy, the U.S. government systematically instituted segregation into housing policies in ways that went far beyond the actions of individuals. This section compares how two federal lending programs—the Home Owners' Loan Corporation (HOLC) and the Federal Housing Administration (FHA)—carried out their respective missions, and their long-term consequences for city and suburban neighborhoods. Both agencies institutionalized discrimination by creating color-coded maps and ratings systems that downgraded neighborhoods based on the racial and class demographics of their residents, rather than objective assessments of their market value alone. While their lending practices differed, both programs contributed to what we today call "redlining": discrimination by refusing to provide (or charging higher rates) for financial services such as mortgages or insurance, due primarily to the location of a property. Although this term was not coined until the late 1960s, the story of its origins—and the federal government's active role in shaping these racial and class boundaries–—dates back to the 1930s. Looking back at the evolution of mortgage lending policies and vivid evidence of discrimination captures the story behind these segregated housing lines, and the thinking of both public and private officials as they drew them.14
When the nation sank into the Great Depression of the 1930s, the economic collapse threatened both lenders and borrowers in the housing market. Millions of Americans who already owned a home were in danger of defaulting on their mortgages, and potentially losing their homes to bank foreclosures. Many more could not afford to buy a home through a privately-owned bank or other lender, based on conventional mortgage terms at that time:
High interest rate (around 7 percent).

Large down payment (typically 50 percent, due to a 50 percent limit on the amount of the loan relative to the market value of the home, or loan-to-value ratio).

Short-term loans (only 3 to 5 years to repay).

Interest-only loan repayment, with very large "balloon payment" of principal at the end, or refinancing a new loan.15
In response to this lending crisis, President Franklin D. Roosevelt signed legislation in 1933 to create the Home Owners' Loan Corporation (HOLC), and subsequent programs to subsidize the cost of mortgages. The HOLC purchased and refinanced loans for homeowners who were in danger of bank foreclosure, due to their failure to keep up with existing mortgage payments or balloon payments. In addition to lower interest rates, these federally-backed mortgages offered much more favorable terms for middle-class homeowners:
Lower interest rate (5 percent or lower).

Smaller down payment (typically 20 percent, by raising the loan-to-value ratio to 80 percent).
Longer-term loans (for 15 years, and then 30 years).

Amortization of loans, which calculates a gradual repayment of both interest and principal, shifting largely from one to the other over time.
Government involvement in the private lending marked prevented millions of Americans from being forced out of their homes, and subsequent programs expanded ownership to millions more, but only for those who qualified. Eligibility was not neutral on the racial and class composition of homeowners' neighborhoods, and tied federal funds into supporting and spreading segregation.16
In order for the HOLC to measure the risk of mortgage investments in different neighborhoods across the nation, the agency launched its City Survey Program in 1935. Field agents were sent to interview local banks and other lenders in 239 cities, and record their findings in confidential reports. In recent years, historians such as Robert K. Nelson and colleagues have compiled a growing collection of these maps for their nationwide Mapping Inequality Project.17
Foster Milliken Jr., the HOLC field agent assigned to Hartford, was no stranger to the world of finance. Decades earlier, his father presided over Milliken Brothers, Inc., a multi-million dollar structural steel manufacturer in New York City that built the world's tallest buildings at that time. Prior to the Depression, Foster Milliken Jr. worked as a stockbroker in Manhattan and was familiar with its social circles. When HOLC sent him to evaluate the Hartford area in 1937, he consulted key figures in the city's home lending market—real estate board leaders, bank executives, and local administrators of federal housing loan programs—who he described as "a fair and composite opinion of the best qualified local people." But in Milliken's eyes, Hartford was a "typical New England city" with "ultra-conservative" fiscal policies, preferring to avoid federal assistance whenever possible. "It is not surprising," Milliken wrote, that most of Hartford's conservative banking circle refused to accept HOLC funding (which required only a 20 percent down payment from lenders, far lower than their conventional terms) and "generally frowned upon" federal home lending programs. Nevertheless, several bank executives and real estate board members agreed to speak confidentially with Milliken and offer their assessment of city and suburban neighborhoods, revealing which areas they believed to be safest or riskiest investments, and why.18
Milliken submitted his confidential report to the HOLC central office, where staff created a four-color Residential Security Map to visually represent the "trend of desirability" he reported for neighborhoods in Hartford and two adjacent suburbs, West Hartford and East Hartford. Green, the highest rating, marked the best opportunities for mortgage investment, what Milliken described as "hot spots" of new and well-planned home construction where "lenders with available funds are willing to make their maximum loans" at up to 80 percent of the appraised property value (thereby requiring only a 20 percent down payment from homeowners). Blue, the second-grade level, represented completely developed neighborhoods of good quality, but not the best, where lenders offered mortgages at no more than 70 percent of the home value (or a 30 percent down payment). Yellow, the third-grade ranking, indicated areas in "transition" due to obsolescent housing or the "infiltration of a lower grade population," and where mortgage lenders were even more conservative than above. Red, the fourth-grade areas, designated areas "broader than the so-called slum districts" where negative transitions had already occurred, and now were characterized by an "undesirable population" with "unstable incomes." While some lenders avoided the third- and fourth-grade areas, Millken's report was cautious to avoid implying that good mortgage investments could not be made there. Rather, "we do think [mortgages] should be made and serviced [but] on a different basis than in the First and Second grade areas." In this way, the HOLC did not refuse to offer loans in the "redlined" areas, but acknowledged that this practice existed among some lenders, and justified doing business differently in these areas.20
Explore the Map: Federal HOLC "Redlining" in Hartford area, 1937
Click on color-coded areas in this interactive map to view ratings by the Home Owners' Loan Corporation (HOLC), which recommended neighborhoods to receive mortgage lending from the highest level (A, in green) to the lowest (D, in red). This federal agency worked with local banks and lenders to evaluate Hartford and over 200 other cities during the Great Depression. They measured not only physical conditions, but also the "social status of the population," and downgraded neighborhoods with non-white, immigrant, and poor residents. In later decades, activists labeled these discriminatory lending practices as "redlining." View map historical sources and code, developed by Ilya Ilyankou and Jack Dougherty, based on an earlier map with contributors from UConn MAGIC and the Kirwin Institute.21
Looking outward from the downtown Hartford business district, Milliken observed that "the entire trend is to the west." In general, the lowest-grade red areas were located along the flood-prone banks of the Connecticut River, the location of the oldest colonial-era settlements that now contained the least desirable housing. Milliken perceived that the quality of neighborhoods improved—–from yellow to blue to green—–as the "better-class" residents moved from the central city to suburban West Hartford, and rising classes successively migrated into their old neighborhoods. A similar movement, though less pronounced in his view, also occurred on the opposite side of the river in suburban East Hartford. Despite this general trend, a closer look at the HOLC map reveals that not all suburban neighborhoods received high ratings, and not all city neighborhoods received low ratings. For example, yellow (the third grade) dominated the southern half of West Hartford and most of East Hartford. Likewise, green (the first grade) prevailed in the northwest quadrant of the City of Hartford.22
Which factors influenced Milliken's mortgage risk ratings? Although his report considered the physical condition and market price of the housing stock, it also gave strong weight to the "social status of the population" in each neighborhood. The report was comprised of one-page standardized appraisal forms for each of the 27 neighborhoods studied. Near the top, HOLC instructed its appraisers to insert details about current inhabitants based on the prevailing standards of racial superiority and economic privilege of the time. Milliken dutifully reported the percentage of "Foreign-born" and "Negro" families, as well as "Relief families" who received Depression-era federal income assistance. In the section asking about the "Infiltration" of outside groups, he occasionally listed "Italians" or "Mixed foreign" residents for selected city and suburban neighborhoods.23
At the bottom of each appraisal form, Milliken added racial and social class commentary about several neighborhoods, which he most likely heard from his local banking and real estate consultants, capturing their dominant cultural desires to maintain boundaries drawn by race, ethnicity, and social class. In a newer housing development occupied by "minor executives and businessmen" in suburban West Hartford (labeled A-2), he noted approvingly that, "a stream separates this section from its less desirable neighbor," referring to an adjacent area of West Hartford with an "infiltration of mixed foreign" families in "workingmen's homes" (C-2). In the North End of Hartford, Milliken described the Blue Hills neighborhood (B-5) as "largely given over to the Hebrew race although the better class Italians are now also moving there." In the predominantly white South End of the city (C-9), Milliken noted that a small percentage of "Negro families are confined to Roosevelt Street," and added that, "Lenders suggest caution in the selection of loans." But all of these neighborhoods were rated above the area immediately north of downtown, "the city's oldest residential section, which has gradually drifted into a slum area now mainly occupied by Negroes" (D-1). The HOLC map revealed not only the visible housing stock in the Hartford area, but also the "invisible" color and class lines drawn by mortgage lenders and real estate agents.
Restricting with FHA
Around the same time that HOLC created these color-coded maps, a second agency, the Federal Housing Administration (FHA), began publishing guidelines for its staff to uniformly evaluate mortgage applications. Whereas the HOLC focused on foreclosures, the FHA devoted its attention to new loans, by subsidizing affordable terms for homebuyers and guaranteeing repayment to commercial lenders. To decide who qualified for FHA loans, the agency published its first Underwriting Manual in 1936. These detailed instructions specified exactly how evaluators should inspect the property, its location, and the applicant's credit worthiness. The FHA Manual provided uniform scoring charts, with examples of accepted and rejected applications.

In the Location category, the FHA Underwriting Manual instructed evaluators to rate mortgage risk based on potential changes in the racial and class demographics of the neighborhood. This policy placed the federal government's financial interest in favor of segregation, and sought to protect property values against integration. The most direct language appeared in the "Protection from Adverse Influences" section, the factor carrying most of the weight in the Location category of the Manual. Overall, the FHA risk-rating system valued newly developed neighborhoods with homogenous upper-class stability. Evaluators were instructed to "investigate areas surrounding the location to determine whether or not incompatible racial and social groups are present." Any intrusions would provoke "instability and a reduction in values," the Manual warned. If the "character of a neighborhood" declines, "it is usually impossible to induce a higher social class than those already in the neighborhood to purchase and occupy properties." Neighborhoods received higher scores if they were protected by "natural or artificially established barriers," such as public parks or college campuses, that prevented the "infiltration of business and industrial uses, lower-class occupancy, and inharmonious racial groups." Similarly, the guidelines cautioned that neighborhood schools "should not be attended in large numbers by inharmonious racial groups." The rating system also approved of restrictive deeds that prohibited "the occupancy of properties except by the race for which they are intended" for at least twenty years. In fact, when restrictive property covenants covered an entire housing development or neighborhood, the Manual judged them to be more effective than zoning ordinances, which municipalities may have adopted "with little or no real understanding of its purpose."26
Scroll the Source: Race and Class in the FHA Underwriting Manual, 1936
Scroll through this online 1936 FHA Underwriting Manual reduced a mortgage application location score where neighborhoods or schools might face changes in race or social class.27
When the FHA expanded its Manual in 1938, it added a four-level neighborhood ranking, on a scale from A to D, when rating the location. The new evaluation forms included specific codes to designate the predominant racial composition of the neighborhood: White, Mixed, Foreign, and Negro.28
The 1930s HOLC maps were marked "confidential" for several decades, until community organizers and academics discovered and renamed them as "redlining" maps in the late 1960s and '70s.The frequency of this phrase jumped upward in full-text databases of published books after the 1970s. Ken Jackson's popular history of suburbanization, Crabgrass Frontier, called public attention to the discriminatory language of field agents' reports. He and others pointed to what they saw as a clear pattern of assigning the lowest "red" rating to neighborhoods with high concentrations of African-American residents.30
But the story may not be as simple as Jackson suggests. Clearly, the fact that the HOLC forms required social demographics of residents, and that appraisers inserted their own racial, ethnic, and class comments in the ratings, shows that discrimination influenced the ratings process. Yet we also know that dominant whites forced black, immigrant, and lower-class residents into segregated sub-standard housing. Could lower ratings simply reflect lower property values? Or can we test whether HOLC agents downgraded specific neighborhoods solely due to the presence of unwanted groups, while holding constant their market price? That question is difficult to answer by looking solely at the Hartford-area report and maps, because of the small sample of neighborhoods (27), their limited variation (only 3 had black residents), and the multitude of variables on the forms. Try comparing two areas that shared relatively similar physical housing characteristics, but received different ratings, such as B-5 (the Blue Hills neighborhood in Hartford's North End) and C-9 (the South End neighborhood). In 1937, both consisted primarily of two-family wooden frame homes, built within the previous two decades, which sold and rented at comparable prices. So why did the appraiser give B-5 a second-grade blue rating, but assigned C-9 a lower third-grade yellow rating? Was it because the C-9 South End neighborhood had more factory workers, or more foreign-born families, or a noticeable number of African-American residents? This direct comparison between two neighborhoods is strongly suggestive, but the sample of neighborhoods is too small to make statistically meaningful claims with Hartford data alone. A better answer requires a richer analysis of a larger city, or pooling together ratings from multiple cities.
Compare the columns: HOLC Appraisals in Areas B5 vs. C9, Hartford 1937
| Area | B5 | C9 |
| --- | --- | --- |
| Security Grade | Second | Third |
| Location | Hartford | Hartford |
| Trend Next Decade | Stable | Stable |
| Occupation | Shopkeepers & white collar | Factory workers & clerks |
| Estimated Family Income | $1,800 | $1,500 |
| Foreign-born families | 5% | 20% |
| Predominant foreign group | Italians | Italians |
| Negro Y/N | No | Yes |
| Negroes | 0% | 1% |
| Relief Families | None | Quite a few |
| Primary Building: Type | 2-Family | 2-Family |
| Construction | Frame | Frame |
| Average Age (yrs) | 15 | 20 |
| Repair | Good | Fair |
| Occupancy | 98% | 97% |
| Home ownership rate | 85% | 85% |
| Price Range (1937) | $7,500 to 12,000 | $7,500 to 11,000 |
| Sales Activity | Poor | Almost None |
| Rental Range (1937) | $40 to 50/month | $32.5 to 55/month |
| Rental Activity | Good | Good |
| Mortgage Availability | Ample | Limited |
Although areas B5 and C9 had similar housing stock and financials, HOLC assigned them different ratings (blue versus yellow), most likely due to the social class and racial composition of neighborhood residents (noted in bold type). Source: HOLC appraisal data, Hartford CT, 1937.31
Some of the most insightful research on the federal government's role in the lending market comes from Amy Hillier's spatial analysis of Philadelphia sources, and her key distinction between the HOLC and FHA programs. The Philadelphia HOLC map covered a large number of neighborhood appraisals, which Hillier plotted on a digital map of census data. Through spatial regression modeling, she found that the racial composition of neighborhoods was a significant predictor for HOLC ratings in Philadelphia, while controlling for differences in housing characteristics. On the surface, this confirms that HOLC maps systematically downgraded Philadelphia neighborhoods due to race, which we could not prove in the smaller Hartford region.32
But Hillier conducts a second, more direct test of the historical evidence, to find out which neighborhoods actually received HOLC or FHA loans, since actual lending patterns matter more than stated intentions. For a sample of Philadelphia mortgage documents from 1940 to 1960, she matched the home address to her digital map and recorded the type and interest rate. Surprisingly, HOLC actually made a large proportion of its loans to lower-grade areas. This finding challenges the conventional "redlining" thesis by pointing out that HOLC has two stories, which are somewhat contradictory. On one hand, Hillier observes, "HOLC created security maps in which race was used to signify race levels." But on the other hand, "HOLC provided assistance to a million homeowners, across race and ethnicity, who were desperate to save their homes," including many to African-Americans and immigrants in the lowest-rated red areas.33
By contrast, FHA loans were less common in Philadelphia's lower-rated neighborhoods, though limitations in the evidence prevents Hillier from making a more definitive claim. Overall, when considering both direct and indirect evidence, Hillier concludes that the FHA "reflected an anti-urban and racial bias deeper than the HOLC's," because its Underwriting Manual and other materials directed evaluators not to lend to low-rated areas, while HOLC reports consistently stated that loans could be profitable there. Although the HOLC "redlining" maps were not as influential as previous historians may have believed, the FHA is the primary culprit responsible for federal divestment and segregation that led to post-war urban decline.34
We do not know whether Hillier's claims about HOLC and FHA lending patterns also hold true for the Hartford region, because no one has yet uncovered and examined the evidence. In any case, both the FHA Manual in general, and the HOLC report and map on Hartford in particular, reveal the upper-class white supremacy state-of-mind by federal agent Foster Milliken Jr. and the city's banking and real estate elite of the 1930s.
About the contributors: Shaun McGann (Trinity 2014) wrote the first draft of this essay in the Cities Suburbs and Schools seminar, and published it in ConnecticutHistory.org.35 Jack Dougherty expanded the essay for publication in this book. Ilya Ilyankou (Trinity 2018) and Jack Dougherty developed the interactive map, based on an earlier version created with contributors from UConn MAGIC and the Kirwin Institute.36
Restricting with Property Covenants
by Tracey Wilson, Vianna Iorio, and Jack Dougherty
No persons of any race except the white race shall use or occupy any building on any lot except that this covenant shall not prevent occupancy by domestic servants of a different race employed by an owner or tenant.
– High Ledge Homes, West Hartford, Connecticut, 1940.37
To many readers, the shockingly blatant racism of the above sentence seems as though it could have been pulled from some long-ago segregation policy of the Deep South. Instead, it came from the Deep North, and represents a forgotten chapter of White suburban history. This race restrictive covenant appears in a government-sanctioned property deed from 1940, inserted by a real estate property developer for High Ledge Homes, a tract of about 70 single-family houses located along South Main Street in West Hartford, Connecticut. Across the nation from the 1920's to 1948, individual property owners, homeowners' associations, and real estate developers employed racially restrictive covenants to prohibit anyone not considered to be part of the "white race" from sale or residency. The only non-white exceptions allowed by most racial covenants were for domestic servants. Furthermore, racially restrictive covenants were backed by the court system up until 1948. If a Black renter or homebuyer attempted to move into a house with a restrictive covenant, any White resident in that suburban development could sue to remove them from the neighborhood. While it may be difficult for present-day residents to imagine this kind of explicit racism in the heart of New England, this chapter uncovers the missing history of state-supported discrimination in multiple housing developments in suburban West Hartford, and most likely many other towns across Connecticut.
Explore the Map: Restrictive Covenants in Hartford area, 1940s
Click on colored rectangles in this full-screen interactive map to view restrictions that landowners wrote into property deeds in the 1940s, typically to prohibit occupants "other than the Caucasian race." The U.S. Supreme Court approved these restrictions in the 1926 Corrigan v. Buckley case, but later declared them unenforceable in the 1948 Shelley v. Kraemer decision. Yet these restrictions still exist in official property records. To date, we have found 5 race restrictive covenants in West Hartford. If you know of similar restrictions, by race or religion, anywhere in Connecticut, contact the author. View map historical sources and the code, developed by Ilya Ilyankou and Jack Dougherty, based on an earlier map created with UConn MAGIC.38
On the whole, race restrictive covenants were more pervasive in other Northern and Western cities, such as Chicago and Los Angeles, than the metropolitan Hartford region. Based on our search of property records to date in West Hartford, the largest suburb of Hartford, we found only 5 race restrictive covenants, all created during the early 1940s. These covered about 200 parcels of land, or around 3 percent of the 6,000 single-family homes that had been constructed in the town around that time. Learn more in this book about How We Found Restrictive Covenants. In this suburb, race restrictive covenants did not appear in all neighborhoods that were developed during this time period, and where they did exist, they did not necessarily apply to every house in that neighborhood. Instead, West Hartford relied more on racial barriers in public housing, by real estate agents, and exclusionary zoning ordinances to restrict non-White and low-income residents. Eventually, race restrictive covenants faded away after the US Supreme Court ruled in 1948 that governments could not enforce these individual agreements.
But their legacy continues to shock and influence us decades later. On a tangible level, homeowners who purchased covenant-protected property gained White privilege and passed along its financial benefits to their future generations. On a historical level, the shocking story of racial covenants in the Deep North serve as an important reminder of the state-sanctioned White supremacy that came to shape Connecticut suburbs.
The story of restrictive covenants begins with the U.S Supreme Court case Corrigan v. Buckley in 1921. White property owners in the Dupont Circle neighborhood of Washington D.C. formed a property owners' association which utilized racially restrictive covenants to keep out Black homebuyers. The dispute arose when White owner John Corrigan attempted to sell his house to an African-American buyer, Irene Curtis, which violated the property's racial covenant. Learning of this violation, White neighbor Irene Buckley brought suit to enforce the race restrictive covenant and stop the property sale.
As the case worked its way through the nation's legal system, the courts upheld the racial covenant. First, the District of Columbia Supreme Court approved the racial prohibition and cited existing legal segregation in schools and public recreational facilities as precedent. Next, upon appeal, the District of Columbia Court of Appeals also ruled in favor of the covenant and cited that African Americans were free to include the same kind of racially exclusive language against Whites in their own property deeds. When the U.S. Supreme Court made their ruling in 1926 the justices unanimously affirmed the lower court decisions by refusing to hear the case on the grounds that they lacked jurisdiction. When Justice Edward Sanford delivered the Court's opinion, he narrowly defined the Constitution's guarantee that no person should "be deprived of life, liberty, or property, without due process of law" as it applied to Corrigan v. Buckley. Sanford asserted that while the Fifth Amendment limited the actions of the federal government, it did not apply to individuals entering a private contact, such as a restrictive covenant. Moreover, he argued that the Thirteenth Amendment did not protect individual rights of blacks, and the Fourteenth Amendment again referred to actions of the state, not of private individuals. Therefore, the 1926 Corrigan v. Buckley decision reaffirmed the right of property owners to legally enforce race restrictive covenants, while ignoring that the court system itself acted as governmental support for segregation. Their interpretation of the Constitution would prevail for over twenty years.39
In emerging suburban communities like West Hartford, Connecticut during this period, property owners inserted different types of deed restrictions to increase their desirability. Beginning in the 1910s, individual homeowners began to add value restrictions, which required that future homes constructed on the land must be above a minimum dollar amount. Real estate developers also began to insert home-value restrictions to cover entire subdivisions. Some also added other types of value restrictions, such as requiring homes to be built above a minimum square footage or sold above a minimum dollar amount, which also raised the overall cost. While these value restrictions effectively limited neighborhoods to wealthier White families, they did not yet contain explicitly racial prohibitions.
Race restrictive covenants came to West Hartford in the early 1940s. During the Depression, rural farmland became more valuable as prospective housing, if the developer could attract city dwellers to the emerging suburbs. Local builder Rupert G. Bent purchased the 47-acre Wooley estate on South Main Street, across from the Rockledge Golf Course, for $30,000 in 1937, and subdivided the land into 100 building lots. Over the next two years, Bent heavily publicized and sold 34 homes during these tough economic times, including several to incoming executives at Hartford's major insurance companies. But Bent eventually sold the remaining land to another developer, Edward Hammel, president of High Ledge Homes, Inc. Described as a "builder of fine homes" in wealthy areas of Westchester County, New York, and Fairfield County, Connecticut, Hammel introduced new methods to make unsold property more marketable. His "uniform plan of development" added several restrictions to property deed that prohibited multi-family homes, small building plots, and occupants "of any race except the white race." This restrictive covenant guaranteed that homebuyers would belong to an exclusively White, upper-class neighborhood, and represented a growing trend among real estate interests across the nation since the 1920s. Hammel's racial covenant appears to have been the first of its kind in West Hartford, and then at least four other developers added the same restriction over the next year.40
Advertising for High Ledge Homes did not mention its racial barrier, but emphasized its exclusivity. A 1940 ad listed the development for "anyone interested in a low or medium home price of the better class," located in the "A" region of town's zoning ordinance, which required single-family building lots to be at least 9,000 square feet, and kept out lower-class families. "You'll like your neighbors" in this growing community, the pitch continued. It also mentioned "West Hartford's famous schools," one of the earliest real estate advertising references to this young suburb's public education system, and perhaps a premature one, given the better reputation of Hartford's city schools into the 1950s.41
While the High Ledge Homes race restrictive covenant stated that any violator could be brought to court by another property owner within the development, winning this lawsuit would be more difficult in practice. The reason was two different types of restrictive covenants. A deed covenant, like the one in High Ledge Homes, was legally considered to be a contract between the original property owner and the buyer. This made it more difficult for a neighbor, who technically was not part of the contract between owner and buyer, to establish a stake in its violation. By contrast, a petition covenant, like the one described in the Corrigan v. Buckley case in Washington DC, was easier to enforce in court, because neighborhood associations gathered the signatures of all homeowners, meaning that all were legal parties to this group contract.43 Even though race restrictive covenants appeared in West Hartford in 1940, they had a longer legacy and more powerful influence in other cities.
Race restrictive covenants were more pervasive in many Northern and Western cities beyond the metropolitan Hartford region. In Chicago and Los Angeles, estimates of properties covered by racial covenants in the 1940s ranged from 50 to 80 percent. In Seattle, developers attached restrictive covenants to tens of thousands of homes in the city and its surrounding suburbs, which created a ring outside the central city of White-only neighborhoods. As a result, large numbers of African American, Asian, and Jewish residents were forced into the only housing available to them, and became highly concentrated into the Central Area and International Districts of the city. In Detroit, researcher Richard Rothstein estimates that white homeowners, real estate agents, and developers organized 192 associations to promote racial exclusion" from 1943 to 1965. And in St. Louis, where the landmark Shelley v. Kraemer case eventually made racial covenants unenforceable, the widespread prevalence of white-only covenants meant that only 2.5 percent of new housing construction was devoted to Black homeseekers in 1948.44
While most restrictive covenants were racial, some also prohibited property ownership based on religion, specifically against Jews. Simon Bernstein, an attorney and Democratic member of the Hartford City Council, pressed the Judiciary Committee in Connecticut's General Assembly to outlaw restrictive covenants "pertaining to nationality, color and religious belief" in 1947. He described his interest in a local case where the property deed limited the sale to "non Semitic persons of the Caucasian race." Bernstein called for a bill to invalidate all restrictive covenants on the grounds that this "un-American practice… is contrary to public policy." Without governmental action, Bernstein declared that "our town clerks are unwitting tools in transcribing prejudices on record, and are thus proclaiming by such governmental publication not only the evil deed, but also immunity against the world for such prejudices." But Connecticut legislators waited for action from the federal government.45
By the late 1940's across the nation, civil rights activists successfully began to turn the tide against racial covenants, both in the courts and the realm of public opinion. The US Supreme Court heard Shelley v. Kraemer, a compilation of race restrictive covenant cases that NAACP attorneys advanced from St. Louis, Detroit, and Washington, DC. President Truman's Committee on Civil Rights came out against racial covenants, and the U.S. Department of Justice filed a brief also condemning this discriminatory policy. In its 1948 ruling, the Supreme Court agreed that private parties could voluntarily agree to race restrictive covenants, but for the judicial system to enforce these agreements qualified as a discriminatory state action, and therefore violated the Equal Protection clause of the Fourteenth Amendment. Therefore, the Shelley v. Kraemer ruling overturned the logic of the 1926 Buckley v. Corrigan decision, which refused to acknowledge legal enforcement of contracts as an act of government. But race restrictive covenants did not disappear overnight. The Federal Housing Administration (FHA) continued to require racial covenants for properties it insured until 1950, and continued to back mortgages for some white-only properties until 1962. Also, several state courts resisted the Shelley decision until a subsequent US Supreme Court decision in 1953. Finally, some local governments continued to accept unenforceable race covenants as legal property documents until this practice was overruled by the federal courts in 1972.46
Although race-restrictive covenants were no longer legally enforceable after 1948, their legacy continued to influence later generations. Whites who bought into restricted West Hartford neighborhoods during the 1940s benefitted financially from government-sanctioned segregation that boosted property values. Decades later, their descendants also benefitted from this inherited wealth. Even after restrictive covenants no longer had judicial backing, the fact of their existence—–and the all-White neighborhoods they created—–sent a signal to potential buyers about the racial preferences of their neighbors. Years after the Shelley decision, some West Hartford homebuyers were told by their lawyers that a non-enforceable racial covenant still existed on their property deeds. And Black homebuyers had to decide whether or not to live in a neighborhood with a documented past of being openly hostile to their presence.47
Most present-day residents of West Hartford's High Ledge Homes development were shocked to learn that their neighborhood had been protected by a 1940s White-only covenant, and sought to make sense of its meaning on their lives. Debra Walsh, an educator and actor, reflected on the White privilege that was attached to her decision to buy her home in 2010. Although she had believed that the North had not exhibited such explicit racist policies, the direct evidence of race restrictive covenants convinced her that "West Hartford made a concerted effort to stay White and WASPy and that contributes to the feel of the neighborhood." Walsh acknowledged how the explicit racism of the covenants in her own neighborhood made her feel uncomfortable with the White privilege she experiences. "It's really hard to look really deep within and answer those questions," she explained, "… when you live in the dominant class. Like you don't know how to answer it." Even though she knew the covenants are no longer enforceable, Walsh could see how "the legacy of the piece of land gets passed on to a feeling of a neighborhood," a sense of White exclusivity that pervades even today, when barriers take on less overtly racial language.
Watch the Video: Debra Walsh Oral History Interview, 2011
Watch the oral history video or read the transcript of the interview with Debra Walsh to hear how she learned about a race restrictive covenant in her West Hartford neighborhood.48
Yet while racial covenants make White West Hartford residents uncomfortable about the past, they remain an important piece of history, a hidden chapter that deserves more attention. Susan Hansen, a librarian and White resident who bought her home in the High Ledge Homes neighborhood in the 1990s, reflected on this theme during a present-day oral history interview. "I think this is something that people should know," Hansen observed, "because there are people still living on my street who were here then, who must have been fully aware." Hansen also emphasized the importance of knowing that racial covenants were not something that happened only in the Deep South long ago, but are a very recent part of Northern suburban history that should not be whitewashed out of memory. As Hansen concluded, "We need to know that we were being idiots up here, too, and it wasn't somewhere else. It was here. It's still here."
Watch the Video: Susan Hansen Oral History Interview, 2011
Watch the oral history video or read the transcript of the interview with Susan Hansen to hear her reflections about a race restrictive covenant in her West Hartford neighborhood.49
About the contributors: Tracey Wilson (Trinity 1976) wrote the first draft of this essay for a monthly newspaper, and also published it in her book, Life in West Hartford.50 Vianna Iorio (Trinity 2019) and Jack Dougherty expanded this essay for publication in this book, in collaboration with Wilson. Ilya Ilyankou (Trinity 2018) and Jack Dougherty developed the interactive map, based on an earlier version created with UConn MAGIC.51 Also, Katie Campbell Levasseur (Trinity 2011) researched restrictive property covenants, and both she and Candace Simpson (Trinity 2012) conducted oral history interviews.
Origins of Exclusionary Zoning
TODO: revise and expand draft with notes from Scriv, update maps, images
During the 1920s, several states granted local governments a new policy tool—known as municipal zoning—to exert greater control over land development. But tools can be used to achieve different goals. We can use them to help people or cause harm. Evaluating the history of zoning requires a closer look at how local governments implemented this policy, and to what ends.
Progressive advocates saw zoning as a necessary tool for government to regulate the free market and to protect the health and safety of its citizens. For example, zoning gave municipalities the power to draw lines on the land and create separate spaces for residential, commercial, and industrial development. Family homes could be legally separated from potentially harmful businesses or factories. When the Connecticut General Assembly approved zoning enabling law in 1923, it stated that local regulations should be designed for this purpose: "… to prevent a close arrangement or constructions of buildings upon the streets, to secure safety from fire and other dangers, to avoid undue concentration of population and to provide health, comfort and general welfare in living and working conditions."52
But local governments often crafted zoning ordinances to achieve other, less innocent goals. Some wrote local ordinances that made housing construction in selected neighborhoods affordable only for upper-class families, thereby blocking out lower-income families. Today we call this "exclusionary zoning" and its roots can be traced back nearly a century ago.
West Hartford became the first Connecticut town to enact municipal zoning in 1924, immediately after the state granted this power. Town leaders hired Robert Whitten, a consultant from Cleveland, Ohio, to guide this process. He drafted West Hartford's first zoning guidelines, which emphasized how these land-use laws would bring "orderliness" and "efficiency" to real estate development in this rapidly growing suburb, "and an increase of health, comfort and happiness for all people."53
Whitten also recommended a system of dividing residential areas by minimum home construction sizes, to effectively segregate citizens by social class. In the most exclusive A district, constructing a single-family home required the largest size property lot (at least 9,000 square feet, or 1/5 of an acre), and building a two-family home required twice as much land. Similar rules mandated the minimum width of the property facing the street. The 1924 zoning plan clearly stated that these rules "will under most conditions, make it uneconomic to build two-family houses" in the A district. Exclusionary zoning required more land per family, which increased home prices to levels that only wealthier residents could afford. While zoning did not explicitly ban lower-class citizens, it effectively pushed them downward to the D-level districts (which permitted two-family duplexes with lower minimum property sizes), or out of the suburb entirely. Under the new zoning law, Hartford's tenement houses and apartment buildings, crowded with working-class families, would be "effectively prevented in West Hartford."54 West Hartford town leaders voted to adopt most of their consultant's recommendations.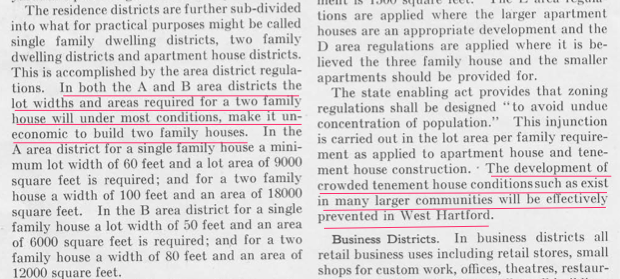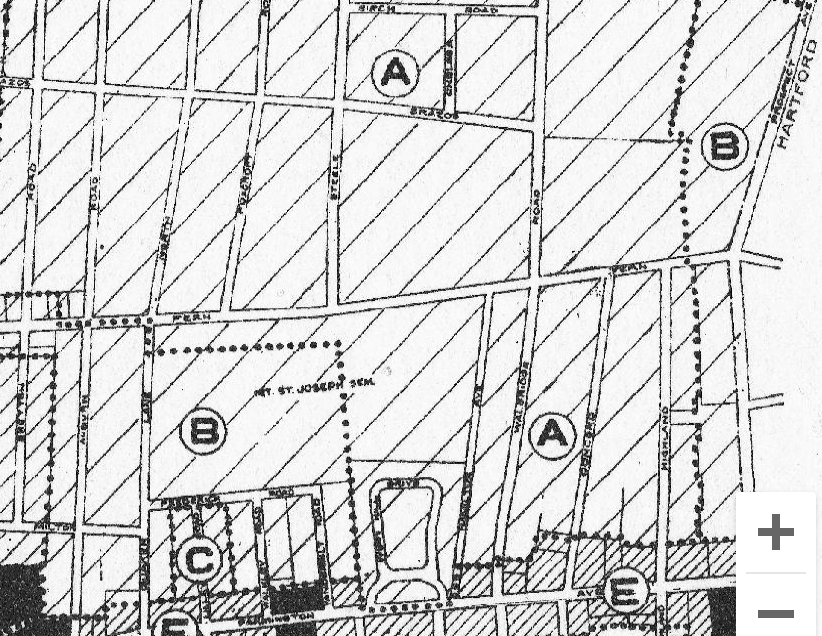 Explore interactive West Hartford zoning maps, 1924 and present
http://magic.lib.uconn.edu/otl/dualcontrol_zoning_westhartford.html
TODO: rebuild map in Leaflet
Drafting local ordinances this way made zoning an exclusionary tool to restrict neighborhoods by wealth, and most likely to pump up high-end real estate sales. Unlike other tools developed around the same time (such as racially restrictive property covenants that prohibited non-white residents, and have since been outlawed by civil rights legislation), class-based zoning remains perfectly legal today. But it does nothing to promote the health and safety of the citizenry, as promised by the original intent of the state law.
Drafting local ordinances this way made zoning an exclusionary tool to restrict neighborhoods by wealth, and most likely to pump up high-end real estate sales. Unlike other tools developed around the same time (such as racially restrictive property covenants that prohibited non-white residents, and have since been outlawed by civil rights legislation), wealth-based zoning remains perfectly legal today. But it does nothing to promote the health and safety of the citizenry, as promised by the original intent of the state law.
Today in Connecticut, we continue to struggle with this legacy of our restrictive land-use laws. Exclusionary zoning has been criticized in multiple reports as a barrier to fair housing and equal opportunity.55 In 2013, the Connecticut Fair Housing Center and Trinity College student researcher Fionnuala Darby-Hudgens and I compiled all of the local zoning ordinances for towns across Connecticut and evaluated them on their degree of restrictions against affordable housing for the Connecticut Zoning Initiative.56
Explore Connecticut Zoning Initiative maps and data, 2013
http://commons.trincoll.edu/cssp/zoning
TODO: rebuild maps in Leaflet
Exclusionary zoning across 169 Connecticut towns, 2012:
But these zoning analysis maps are incomplete because there is no uniform reporting requirements for local zoning ordinances, and no state entity charged with collecting this data in meaningful ways. Despite these obstacles, the question remains the same. If we wish to keep zoning as a governmental policy to regulate market forces in real estate, what kind of tool do we want it to be? Should we consider rewriting exclusionary zoning laws to make them more helpful for the health of our communities?
About this book

On The Line is an open-access, born-digital, book-in-progress by Jack Dougherty and contributors at Trinity College, Hartford CT, USA. This work is copyrighted by the authors and freely distributed under a Creative Commons Attribution-NonCommercial-ShareAlike 4.0 Interational License. Learn about our open-access policy and code repository and how to cite our work.
This book-in-progress was last updated on: 2019-02-13
---
TODO: check definition and "coined" source, whether made illegal under 1968 FH Act, and more recent definitions.↩

TODO: Check sources; history of amortization in Snowden and Rose paper, http://realestateresearch.frbatlanta.org/rer/2012/04/debunking-popular-myth-about-mortgage-lending.html; compare with typical HUD history http://homeguides.sfgate.com/amortization-mortgage-2809.html and http://answers.google.com/answers/threadview/id/533059.html and http://archives.huduser.org/about/hud_timeline/tl/hudtimeline_1930.html↩

David Freund, Colored Property: State Policy and White Racial Politics in the Modern American Suburb (Chicago: University of Chicago Press, 2007).↩

Robert K. Nelson et al., "Mapping Inequality: Redlining in New Deal America," American Panorama, Digital Scholarship Lab, University of Richmond (https://dsl.richmond.edu/panorama/redlining/, 2016).↩

TODO: Milliken bio from 19070611NYT Milliken Brothers; 1930 Ancestry on zotero; 19350120NYT Foster Milliken. TWO REPORTS: Foster Milliken, Jr., "Confidential Report of a Survey in Hartford, Connecticut" (5 May 1936) and "Residential Security Map and Area Descriptions" (20 November 1937), for the Division of Research and Statistics, Home Owners' Loan Corporation, Folder "Hartford CT #2", Box 64, City Survey Files, Record Group 195: Records of the Federal Home Loan Bank Board, National Archives II, College Park, MD; "best qualified" quote and acknowledgments in page 4-5 of 1937 report; ultraconverv and FHA quotes in 1936 report p3, 20↩

Home Owners' Loan Corporation, "Residential Security Map and Area Descriptions, Hartford-West Hartford-East Hartford, Connecticut" (http://digitalrepository.trincoll.edu/cssp_archives/14/, 1937), uploaded to Home Owners' Loan Corporation, "Residential Security 'Redlining' Map, West Hartford-Hartford, CT" (http://mapwarper.net/maps/15096, 1937) and Home Owners' Loan Corporation, "Residential Security 'Redlining' Map, East Hartford CT" (http://mapwarper.net/maps/15097, 1937)↩

TODO: quotes from 1937 report, p. 1; pp. 3-4↩

Ilya Ilyankou and Jack Dougherty, "Map: Federal HOLC 'Redlining' in Hartford Area, CT, 1937," On the Line (https://github.com/OnTheLine/otl-redlining, 2017); University of Connecticut Libraries Map and Geographic Information Center, "Federal HOLC 'Redlining' Map, Hartford Area, 1937" (http://magic.lib.uconn.edu/otl/doclink_holc.html, 2012)↩

TODO: recheck if "better-class" phrase appears, and if so, quote it; 1936 report page 10↩

TO DO: social status quote from 1937 page 1; see forms on pages A1-D3↩

Corporation, "Residential Security Map and Area Descriptions, Hartford-West Hartford-East Hartford, Connecticut."↩

Federal Housing Administration, Underwriting Manual: Underwriting and Valuation Procedure Under Title II of the National Housing Act (Washington, D.C.: US Government Printing Office, 1936)↩

Administration, , part II, sections 233, 229, 289, 284, 227-28.↩

Administration, , part II, sections 226-289.↩

TO DO: expand from Rothstein book↩

Federal Housing Administration, Underwriting Manual: Underwriting and Valuation Procedure Under Title II of the National Housing Act (Washington, D.C.: US Government Printing Office, 1938), section 1849-50.↩

TODO: Check "confidential" marking; check Jackson notes on discovery; insert quote from Jackson, Crabgrass Frontier; decide about adding Google Books Ngram, https://books.google.com/ngrams/graph?content=redlining&year_start=1940&year_end=2000↩

Ilyankou and Dougherty, "Leaflet Map of HOLC 'Redlining' Security Map for Hartford CT Area, 1937."↩

Amy Hillier, "Redlining and the Home Owners' Loan Corporation," Journal of Urban History 29, no. 4 (2003): 394–420↩

Amy Hillier, "Searching for Red Lines: Spatial Analysis of Lending Patterns in Philadelphia, 1940-1960," Pennsylvania History 72, no. 1 (2005): 25–47; TODO: CHECK (Hillier JUH 2003, 394; Hillier Soc Sci Hist 2005, p227; Hillier SSH 2005 p209, see Hiller 2003b)↩

TODO: check "prevents" in Hillier PA History 2003; Hillier p414 JUH 2003↩

Shaun McGann, "The Effects of 'Redlining' on the Hartford Metropolitan Region," ConnecticutHistory.org (http://connecticuthistory.org/the-effects-of-redlining-on-the-hartford-metropolitan-region/, March 2014).↩

Ilyankou and Dougherty, "Leaflet Map of HOLC 'Redlining' Security Map for Hartford CT Area, 1937."; University of Connecticut Libraries Map and Geographic Information Center, "Federal HOLC 'Redlining' Map, Hartford Area, 1937."↩

High Ledge Homes Inc., "Agreement Concerning Building Restrictions: High Ledge Homes Development" (https://github.com/jackdougherty/otl-covenants, June 1940).↩

Ilya Ilyankou and Jack Dougherty, "Map: Restrictive Covenants in Hartford Area, 1940s," On the Line (https://github.com/OnTheLine/otl-covenants, 2017); universityofconnecticutlibrariesmapandgeographicinformationcenterRaceRestrictiveCovenants2012↩

"Corrigan V. Buckley" (https://scholar.google.com/scholar_case?case=11135903580197116691, May 1926); Prologue DC, "Mapping Segregation in Washington DC" (http://prologuedc.com/blog/mapping-segregation, 2015)↩

"100 New Homes to Be Built on High Ledge Tract: E. F. Hammel, New York Builder, Buys Tract from the R. G. Bent Co." The Hartford Courant, March 1940, B1. See race restrictive covenants in West Hartford property deeds in Ilyankou and Dougherty, "Map," 2017.↩

"Ad: Modern Homes in High Ledge," The Hartford Courant, March 1940, B3.↩

"Ad."↩

Richard Rothstein, The Color of Law: A Forgotten History of How Our Government Segregated America (New York: Liveright Publishing, 2017), p. 79; DC, "Mapping Segregation in Washington DC."↩

On the 50 percent estimate in Chicago, see Ta-Nehisi Coates, "The Case for Reparations," The Atlantic (http://www.theatlantic.com/galleries/reparations/1/, June 2014). For higher estimates in Chicago and Los Angeles, see United States Commission on Civil Rights, Understanding Fair Housing (Washington DC: Government Printing Office, 1973), p. 3; James Gregory, "Segregated Seattle," Seattle Civil Rights & Labor History Project (https://depts.washington.edu/civilr/segregated.htm, 2010); Rothstein, The Color of Law, p. 80; Jeffrey D Gonda, Unjust Deeds: The Restrictive Covenant Cases and the Making of the Civil Rights Movement (Chapel Hill: University of North Carolina Press, 2015), p. 31.↩

"Bernstein Seeks End of Restrictive Clauses," The Hartford Courant, March 1947, 21; "State Law Sought Against Racial Ban in Realty Deals," The Hartford Courant, April 1947, 8. In our oral history interview with Simon Bernstein at age 98, he recalled details about a race restrictive case in West Hartford which was settled out of court, but not the religion and race case briefly mentioned in this 1947 press account. See Simon Bernstein, "Oral History Interview on Connecticut Civil Rights" (http://digitalrepository.trincoll.edu/cssp_ohistory/19, August 2011). Tracey Wilson described anecdotal accounts of anti-Jewish and anti-Catholic covenants in West Hartford, but we have not yet found documentary evidence. See Tracey M. Wilson, "High Ledge Homes and Restrictive Covenants," in Life in West Hartford (West Hartford Historical Society and Noah Webster House, 2018).↩

"Shelley V. Kraemer" (https://scholar.google.com/scholar_case?case=12732018998507979172, May 1948); Rothstein, The Color of Law, 85–91; "Mayers V. Ridley" (https://scholar.google.com/scholar_case?case=15478926121065691421, March 1972).↩

Mary Everett, "Oral History Interview on West Hartford" (http://digitalrepository.trincoll.edu/cssp_ohistory/23, July 2011); Richard R. W. Brooks and Carol M. Rose, Saving the Neighborhood: Racially Restrictive Covenants, Law, and Social Norms (Cambridge, Massachusetts: Harvard University Press, 2013).↩

Debra Walsh, "Oral History Interview on West Hartford" (http://digitalrepository.trincoll.edu/cssp_ohistory/21, July 2011)↩

Susan Hansen, "Oral History Interview on West Hartford" (http://digitalrepository.trincoll.edu/cssp_ohistory/17, July 2011)↩

Tracey Wilson, "Taking Stock of High Ledge Homes and Restricted Covenants," West Hartford Life 13, no. 2 (June 2010): 36–37; Wilson, "High Ledge Homes and Restrictive Covenants."↩

Ilyankou and Dougherty, "Map," 2017; University of Connecticut Libraries Map and Geographic Information Center, "Race Restrictive Covenants in Property Deeds, Hartford Area, 1940s" (http://magic.lib.uconn.edu/otl/doclink_covenant.html, 2012)↩

TODO: check original source, cited in Robert Harvey Whitten, West Hartford Zoning: Report to the Zoning Commission on the Zoning of West Hartford (West Hartford, Conn: Zoning Commission, 1924), p. 8; "Plans to Apportion Population of Cities: Legislative Committee to Recommend Bill Today Giving Wide Powers for Aesthetic and Welfare Effect in Seven Municipalities," Hartford Courant, May 1923, 1↩

Whitten, West Hartford Zoning, preface↩

Whitten, , p. 10.↩

Suburban Action Institute, A Study of Zoning in Connecticut: A Preliminary Report Prepared Under Contract with the Connecticut Commission on Human Rights & Opportunities (New York: The Institute, 1978); Jason Reece et al., People, Place, and Opportunity: Mapping Communities of Opportunity in Connecticut: A Report Commissioned by the Connecticut Fair Housing Center (Kirwan Institute for the Study of Race and Ethnicity, The Ohio State University, 2009).↩

Connecticut Fair Housing Center and Cities Suburbs and Schools Project at Trinity College, "Connecticut Zoning Initiative" (http://commons.trincoll.edu/cssp/zoning/, 2013); Connecticut Fair Housing Center, "A Guide to Zoning for Fair and Open Communities" (Hartford CT, June 2013); Connecticut Fair Housing Center, Analysis of Impediments to Fair Housing Choice 2015 (Hartford: Connecticut Department of Housing, 2015).↩